szenen / Innenraum gestaltung, Lichtplanung, Material- & Farbkonzept und 3D Visualisierung eines wohnraumes. Im rahmen der Produkt präsentation der vitrine 'm80c' , aus der aktuellen kollektion von sath Studio.
interior scene design, lightplanning, material & color styling and 3D visualization of a livingroom. For the purpose of presenting the cabinet 'm80c' by sath Studio.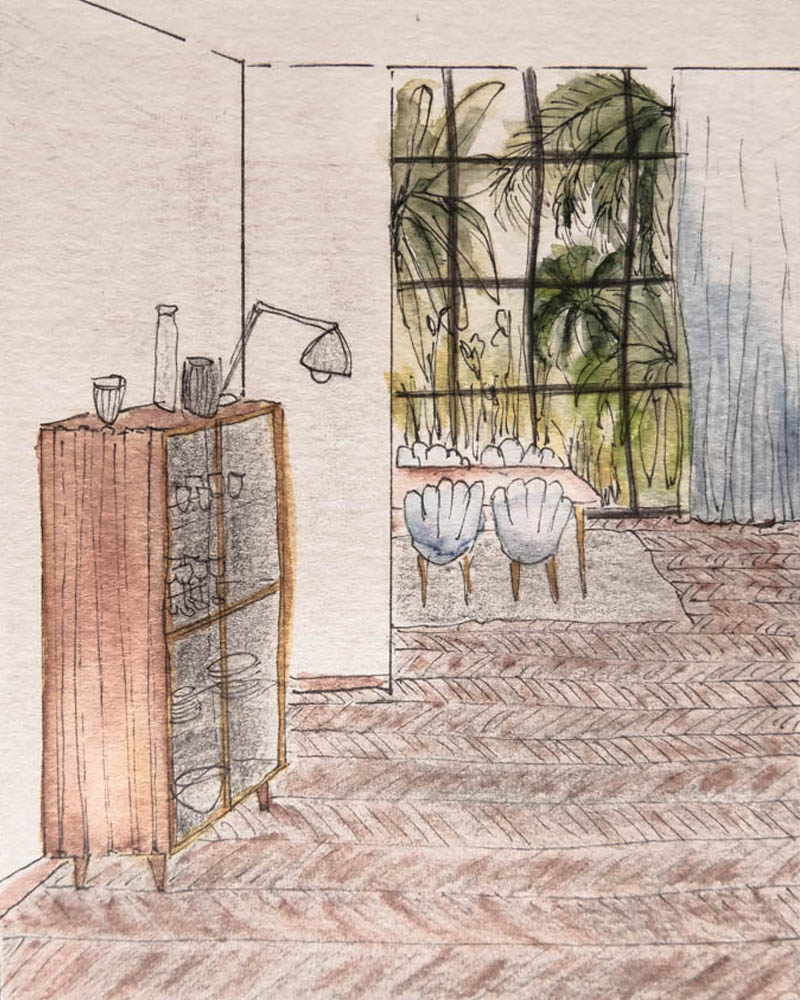 DESIGNKONZEPT
Die Szene für dieses Bild wurde im Rahmen der Möbel-Präsentation der 'M80c' Vitrine entwickelt. Der Wohnbereich wird durch ein schmales Wandelement zoniert; im vorderen Bereich entsteht ein Esszimmer, der hintere Bereich soll als Wohnzimmer dienen. Das rötliche Lärchenholz der Vitrine harmoniert mit den schlichten weißen Wänden und dem dunklen Boden. Durch seine Größe, eignet sich die 'M80c' Vitrine perfekt für diese Nische; sie ist präsent ohne den Raum voll wirken zu lassen. Zusätzlich zu den verstellbaren Ablagefächern im Inneren des Schrankes, kann die Schrank-Oberseite als Ablage genutzt werden. Die Couch im Hintergrund wurde durch einen Hocker, der als Beistelltisch dienen soll, ergänzt. Die Blau-Weißen Vorhänge und die paradiesisch Aussicht im Hintergrund, sorgen für eine sommerliche, lockere Stimmung.
Boden; dunkles Fischgräte Parkett | Wände & Decke; Feinputz in Weiß | Möbel; Vitrine 'M80c' aus Lärchenholz, mit Messingrahmen, Hocker aus Eschenholz, gebürstet und schwarz gebeizt, mit Beinen aus Messing | Textilien; Couch in Beige, Teppich in Anthrazit, Vorhang mit Blau-Weiss-Verlauf
DESIGNCONCEPT
The scene for this image was developed for the purpose of presenting the 'M80c' cabinet in an architectural environment. The living area is divided by a narrow wall element; the front area is used as a dining room, the area at the back is used as a living room. The reddish larch wood of the cabinet is matching with the plain white walls and the dark floor. Due to its size, the 'M80c' cupboard is perfect for this alcove; it is present without letting the room seem full. In addition to the adjustable storage compartments inside the cabinet, the cabinet top can be used as a shelf. The couch in the background was complemented by a stool that serves as a side table. The blue and white curtains and the beautiful view in the background, provide an easy mood.
Flooring; dark fishbone parquet | Walls & Ceiling; Plaster in white | Furniture; Cupboard 'M80c' made of larch wood, with brass frame, stool made of ash wood, brushed and black stained| Textiles; Couch in beige, carpet in anthracite, curtain with blue-white gradient