architektonischer Entwurf, szenen / Innenraum gestaltung, Lichtplanung, Material- & Farbkonzept und 3D Visualisierung einer hotellobby. Im rahmen der Produkt präsentation der 'sign tube' , einer hängeleuchte der Firma Prolicht.
ARCHITECTURAL DRAFT, interior scene design, lightplanning, material & color styling and 3D visualization of a lobby. For the purpose of presenting the 'sign tube', a pendant light BY Prolicht.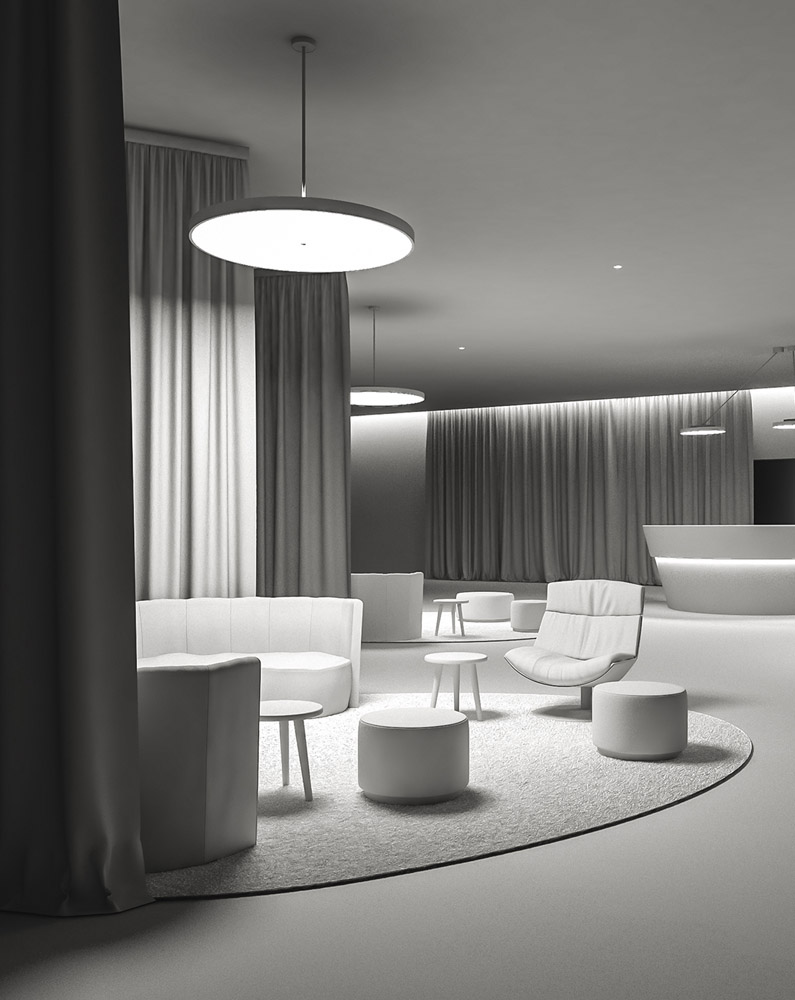 DESIGNKONZEPT
Die runde, verspielte Formensprache im 'New Art Deco Stil', kombiniert mit schwerten raumhohen Vorhängen, bildet das Grundkonzept für diesen Entwurf einer Hotellobby. Die gezielte Lichtsetzung und die kräftige Farbwahl der im Licht schimmernden, weichen Samtstoffe, stehen im Kontrast zu der dunklen, gedämpften Atmosphäre des Raumes. Zahlreiche kleine Spots verwandeln die Decke in einen Nachthimmel und sorgen, zusätzlich zu den Pendelleuchten über den Sitzbereichen, für eine allgemeine Ausleuchtung der Lobby.
Boden; großformatige Fliesen in weißem Marmor | Wände & Decke; Strukturputz in Anthrazit, Putz in dezentem Blaugrau | Textilien; Teppiche in Blau, Sessel und Couch in Beige, Kirschrot und Petrol, Vorhänge in petrol – farbigem und kirschrotem Samt | Möblierung; in schwarzem Leder und Messing (Rezeption), schwarz und goldig lackiertem Holz (Beistelltische) | Lampen; in Anthrazit und Gold
DESIGNconcEPT
The decorative and expressive design language of the 'New Art Deco style', combined with heavy room-high curtains, forms the basic concept for this design of a hotel lobby. The selective lighting and the strong colour choice of the soft velvet fabrics shimmering in the light contrast with the dark, dim atmosphere of the room. Numerous small spots transform the ceiling into a night sky and, in addition to the pendant luminaires above the seating areas, provide general illumination of the lobby.

Floors; large-format tiles in white marble | walls & ceiling; textured plaster in anthracite, plaster in discreet blue – grey | textiles; carpets in blue, armchairs and sofas in beige, cherry red and petrol, curtains in petrol – coloured and cherry – red velvet | furniture; in black leather and brass (reception), black and gold lacquered wood (side tables) | lamps; in anthracite and gold